FWI BOOKED: The Smarter Way to Schedule Conference Rooms
FWI
October 26, 2017
With FWI BOOKED, you can optimize the use of your meeting rooms by streamlining the booking process.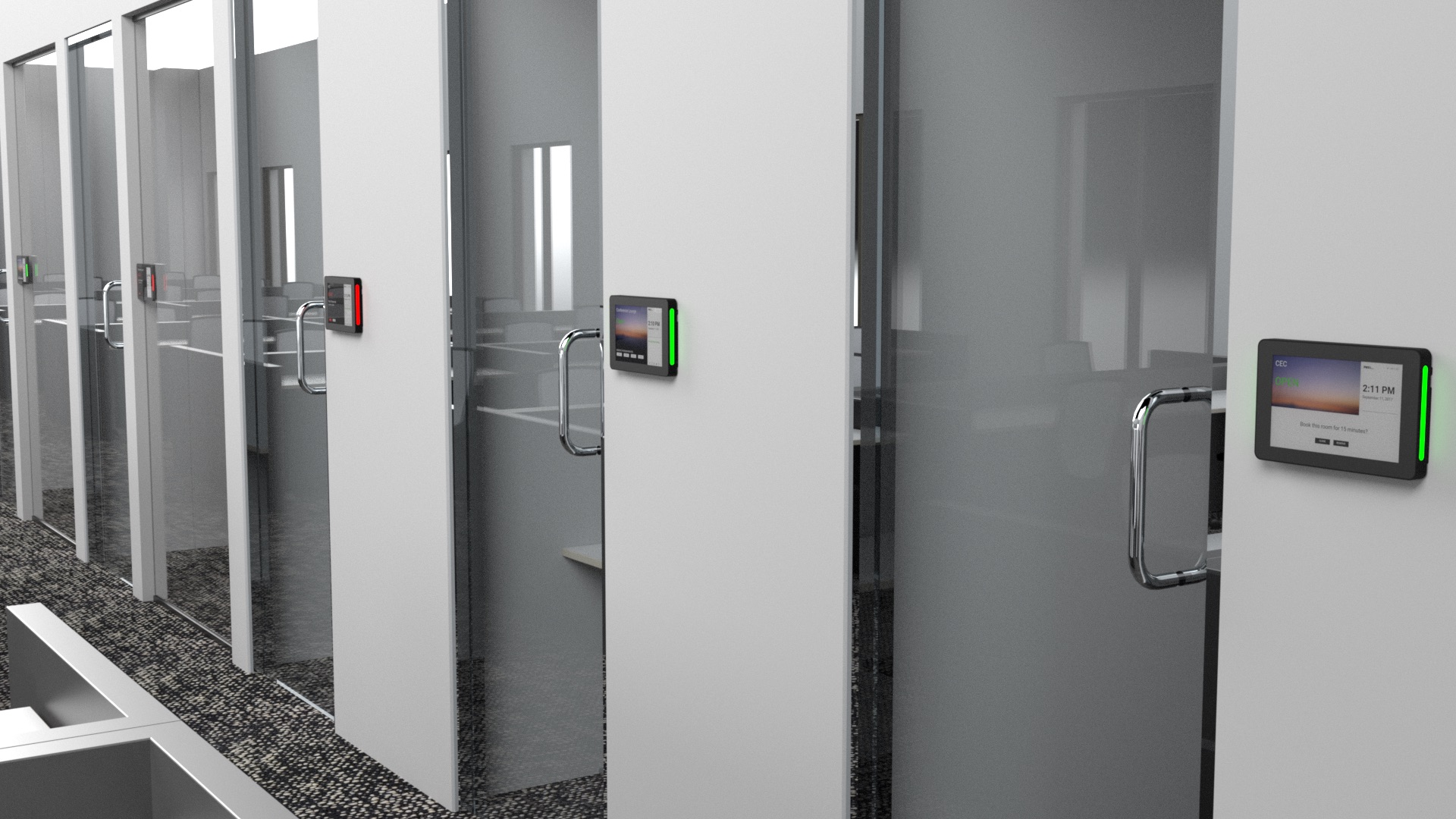 Traditional meeting room management can be time-consuming, prone to error, inefficient and damaging to an organization's productivity. In fact, studies show that at least 47% of employees consider meetings to be a total waste of time and up to $37 billion is lost every year due to meeting mistakes. Without a centralized and cohesive meeting room management system in place, companies are forced to rely on manual booking methods that, in the long run, lose them money and breed frustration among employees, customers and stakeholders.
Fortunately, conference room digital signage can not only help companies cut down costs but they can streamline the meeting room booking process, making it less prone to error. Plus, with the right set of tools, even brand-new employees will be empowered to complete their meeting arrangements independently.
Decrease Real Estate Costs
Let's face it: a meeting room is not just a space in your office—it's a valuable resource that needs to be monitored, ensuring that only value-adding collaborations occur in them.
Fortunately, conference room digital signage like FWI BOOKED provides a single platform to manage all meeting room bookings. With BOOKED, managers can see how long meetings run and which rooms go primarily unbooked. With this valuable information at hand, it's easier for companies to prioritize energy-saving practices and decide if the available number of meeting rooms is sufficient to meet their employees' needs.
Innovate Office Work
Anyone who works in an office with traditional booking methods has their fair share of horror stories, including the annoyance of double booked rooms and the stress of last-minute room changes and meetings that run too long. When meeting information changes, the organizer has to repeat the long process of notification and approvals that can leave attendees frustrated. This approach, aside from being frustrating, is also outdated, time-consuming and error-prone.
FWI BOOKED can solve these meeting room management problems through a fully integrated meeting room system that can be used by any employee through touch screen digital signage. This meeting room signage can be placed outside each room, showing which spaces are open or busy with LED lights in addition to displaying meeting details alongside participants. From there, employees can directly book, extend or even change meeting details. And if interactive meeting room signage doesn't fit your needs, BOOKED has a non-interactive option too.
Get Seamless Integrations
Scheduling errors usually occur when fragmented systems are used to book rooms, invite attendees, authorize service providers and register visitors. Whenever separate systems are used in conjunction with each other, the synchronization of information doesn't always happen. When meetings get updated to include new attendees, change the time, venue or details, outdated conference room systems can cause delays in implementing those updates.
FWI BOOKED is a conference room system that doesn't work in a silo. Through its ready-made adapters that enable the seamless push and pull of data, FWI BOOKED includes integrations for Microsoft Exchange, Google Calendar, Dean Evans EMS and Collegenet Series 25.
Meet Smarter with FWI BOOKED
An intuitive and interactive conference room digital signage solution, FWI BOOKED combines the best of FWI's Visual Communications software, and services and integrations with top-of-the-line hardware to improve every facet of your meeting room booking process. There is even an option to include the Open Boardrooms App, which leveraged in high-traffic areas, shows every available meeting room in your organization—updated in real-time as things change.
In addition to the FWI BOOKED application, you get:
Windows or Android Hardware with mounting options for wall or glass surfaces
Integration Framework adapters to communicate with your current scheduling software
Cloud-hosted infrastructure
Unlimited access to FWI Templates, apps, backgrounds and other content items in the FWI Store
Focused training and onboarding services
Media player configuration
Access to training documentation, video tutorials and other educational information
With FWI BOOKED, you can maximize your assets, streamline the booking process and reduce booking errors. Not only can BOOKED cut down on operational expenses, but it can help strengthen your brand's image both within and outside of your organization. With FWI BOOKED, you can reap the benefits of a full turn-key meeting room management system in no time. And with optional services that include onsite installation, managed content updates, creative services, physical installation and remote monitoring and management, we make getting started easier than ever before.